BBQ 2 In 1
Features :
- At the same time eating hot pot and barbecue only on a cooker pot roast.
- Saves time and effort to prepare.
- Non-stick baking tray and food safety , food made easy.
- Barbecue is not burning , smoke and dust.
- Easy to control , hygiene and cleaning.
- Helps you save money on food and travel.
- divided into 2 trays : one tray near to baked, fried foods , pot 1 tray to set.
- Easy to clean and hygienic after your family feast ends.
- Product standard Korean technology.
- Stove top Coated be beautiful and durable.
- Products with stainless steel pot.
Specifications:
- Power : 1650W
- Power : 220V - 50Hz
- Temperature adjustable : 0 ~ 240 degrees C
- Color : black red
- Weight: 5 kg
Grill
Steamboat
Pot capacity - 2.3 litres
Temperature control selector
Spec
Body Type : 1500W
Size (L x W x H) : 35x33.5x72
PHOTOS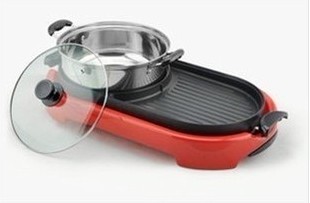 HARGA BIASA : RM240.00
HARGA OFFER RM 159.00