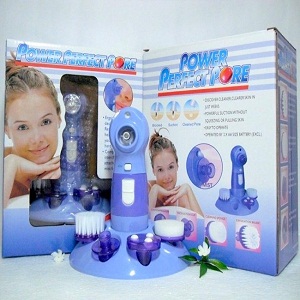 Highlight
Ergonomically designed suction cup. Removes black
heads without hurting your skin with hard
squeezing.
Face Suction Cup Cleans pores and black heads from
your skin by its suction technology.
Contour Massager tones face muscles, stimulate
blood vessels and thus improve blood circulation.
Cleaning Sponge helps you to spread facial cream
evenly on your face to get maximum benefits of it.
Exfoliation Brush with mist function renews skin
by removal of dead cells of face and makes your
skin glow.
Discover cleaner, clearer skin in just weeks.
Powerful suction without squeezing or pulling
skin.
Easy & handy to operate.
**Video shown for demonstration purpose only**
Power Perfect Pore with mist function maintains
clean, healthy and radiant looking skin without
embarrassing blackheads or whiteheads. Its deep
penetrating suction cleanses below the surface to
effectively help prevent breakouts. No more
squeezing, pulling or injuring your skin.
Power Perfect Pore (Facial Kit) is perfect
solution for clean, clear and fair skin. No
Blackheads, No Pimples, No Dark Circles, No
Wrinkles. Power Perfect Pore is easy to operate.
It cleans & clears the skin. Use it with cream or
moisturizer for gentle massage and better
absorption.
Power Perfect Pore Treatment Set includes: Face
Care System Main Unit 4 interchangeable heads:
Exfoliation Brush
Cleaning Sponge
Face Suction Cup
Contour Massager
Holding Stand
Caution: Do not use over infected or inflamed
areas or skin eruption
Get cleaner, clearer, and fairer skin with the 4-in-1 Power Perfect Pore Facial Kit. It comes with four separate attachments for all your facial needs and all of them fits in a neat little package that makes it portable and easy to use and replace. If you're in search of a new facial kit, then your search ends here! Buy the facial kit now and let your face glow!
Each set comes with:
Exfoliation Brush
Cleaning Sponge
Face Suction Cup
Contour Massager
Holding Stand
Caution:
Do not use over infected or inflamed areas or skin eruption.
Do not use face suction cup over one particular spot for over 10 seconds
Remove all the batteries after use
Only the interchangeable heads can be washed in water. Please clean the main unit with dry cloth or tissue paper.
HARGA RM49.00

KINI HANYA RM39.90!!!