Frosting Deco Pen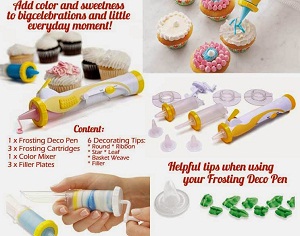 Frosting Deco Pen
Product Code: 10-54-137
Features:
The frosting deco pen gives you precise control for beautiful results Gives your cupcake a yummy seedless jelly center using the filter tip Create eye catching decorations with 6 different decorating tips With instruction and receipe manual Mess Free,

*Easy To Use and Lots Of Fun


Decorate cakes, cookies, and cupcakes at home like a professional with this battery powered Frosting Deco Pen, which gives you precise control for amazing effects--from clear writing to precise borders and shapes. It includes 6 decorating tips for a variety of decorating options, plus 3 refillable frosting cartridges, a color mixer, 3 filler plates. The Deco Pen's battery power makes it easy to write and decorate consistently without having to think about pumping frosting yourself.

Loading frosting is easy with the included filler plate, and the Deco Pen works with Duncan Hines, Betty Crocker and Pillsbury commercial frostings as well as your own homemade frosting.
HARGA RM59.90