Ultra light and portable

On/Off switch

HVLP (high volume/low pressure) air technology for 100% coverage with minimum over spray and maximum control.

Electric paint spray system for a professional finish

Advanced, easy-to-use technology

3 spray settings: vertical, horizontal and circular jet

Works from any angle

Configure carrying strap for easy carrying and operation

No drip application for easy cleanup

Can be used to spray paint, lacquer and varnish

Professional spray system paints 15m² in 10 minutes

This product is high-power electrical appliance, so it is inevitable to produce the big sound which is about 80 DB

can be used for brick,cement,stucco, wood,smooth surfaces.

indoor and outdoor furniture and interior and exterior and other decor spraying.
Input Voltage: AC 220V-50Hz

Power consumption: 650W

Atomizing Output: 105W

Container Volume: 800mL

Flexible-hose length: 1.5m

Motor speed r.p.m.

: 32,000 rpm

Max.

Viscosity: 130 DIN-Secs
Main unit

Tube

Carrying strap

Viscosity measuring cup

Spray gun

Paint container

Cleaning clip

Owner manual
Suitable use in.
Brick

Cement

Stucco

Wood

Glass

Rough, Curved & Smooth Surfaces

Fences

Indoor & Outdoor Furniture

Interior & Exterior Walls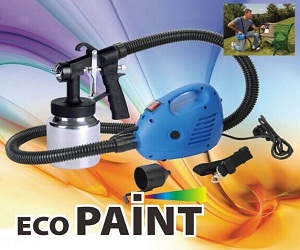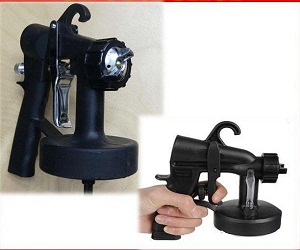 *Advanced,easy to use technology
*For home use
*Saves paint by precisely regulating the amount of paint to be sprayed
*Spray can be adjusted to ensure even paint application
*3 Spray setting : vertical,horitical and circular jet
*works from any angle
*Fast,light and easy to carry and clean
*No drips
*Can be used to spray paint,lacquer and clean
*Can be used on brick,cement,stucco,wood and glass;rough,curved and smooth surfaces;fences;indoor and outdoor furniture and interior and exteriur walls.
The set includes
*Main unit
*Tube
*Carrying Strap
*Viscosity measuring cup
*Metal spray gun
*Aluminum paint container
Technical specifications
*Voltage 230~240v;50-60Hz
*Power consumption 700w
*Atomizing output 105w
*Container capacity 800ml
*Hose length 1.5m
*Maximum viscosity 120din-secs
*Motor speed 3200rpm
Harga RM189.00