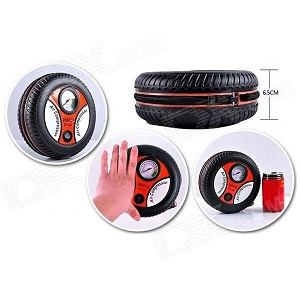 *The machine is suitable for automotive , motorcycle, bicycle 's tires, inflatable
Ball games and inflatables , using a wide range , inflatable fast, stable quality
*
On the highway , off-road trips or anywhere , when suddenly the car tire leak , can play its emergency function .
Two minutes can be charged to the rated pressure tire pressure .
Then you can rest assured motorists running a critical thing or driving garages to fill tires .
Do not waste your valuable time
*
Ready to make automobile tires maintain correct tire pressure can save gasoline
*
But also protect the tires and ensure traffic safety
*
The whole interior design clever closing line to save space
*
Novel appearance, easy to carry and lightweight that

*Material: Plastic, metal

*
Power supply type: 2.5m cord with cigarette lighter plug
*
Dimension: 17.5 x 6.5 cm
*
Comes with a pressure gauge
*
Pump gauge: Up to 260kPa
*
Three nozzle adaptors available (for car tyres, bike tyres, rubber floater, balls)
*
Inflates ordinary car tires in 5 minutes (>30psi)
*
Easy to use, store and transport.
*
Suitable for cars, motorcycles, bicycles, inflatable beds, balls, and more .
PRICE: RM59.90 *** **include postage semenanjung